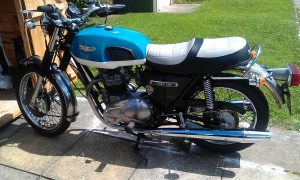 1973 Triumph Tiger 750 VR.
Now returned to it's happy owner
We team up with bike safe throughout the year, joining in on their breakfast roadshows. Keep an eye out for the dates-who can resist a good ride out to one of the shows with a free bacon or sausage butty thrown in for free.
As soon as we get some dates they will be posted in our News and Events
Details coming soon
Classic Bike Parts Uk display stand number and location