Alan Redmayne BSA B50 Horn Bracket
Hi John, attached are pictures showing your bracket on the two types of original horn I have, the bracket fits perfectly on the oif B50 but not on the earlier conventional frame type bikes. I hope your customer has just assumed that a unit single is the same no matter what the year! It'll be hard to explain that not all aftermarket parts are as spot on as your stuff, are you from an engineering background?
I have attached a pic of my B50 just so you can have a laugh at my expense, it's a bit of a 'challenge'!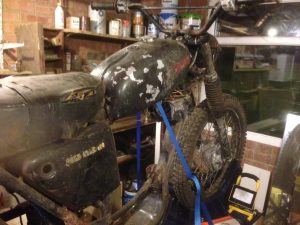 I will be after as much stainless as you get manufactured for my collection of unit singles this includes;
1 1968 Starfire
2 1969 T25
3 1968 B44
4 1971 B25 T / SS (no rolling chassis …. Yet)
5 1972 B50 T
I have another complete B44 motor so maybe It'll be 6 one day, none of these are complete or assembled, I'm 52 and this is my retirement time fully occupied already, I hope, although I have a burning desire for a grey framed A65 … maybe a Firebird ?
I took a load of parts to the local platers earlier this week only to discover that they have packed in plating !!!!!! Can I give you a call after you receive this email in hope that you can recommend a good plater.
If you are up in north Lancashire any time I would be keen to meet up for a pint / cup of tea / good old natter about old bikes.
Regards
Alan
Attachment:-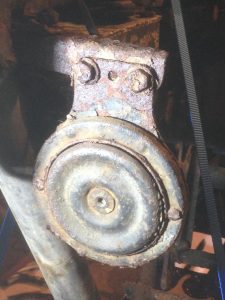 This picture shows the bracket positioned upside down over the rear of the horn, the holes in the bracket align perfectly with the horn, as does the inside radius of the bracket.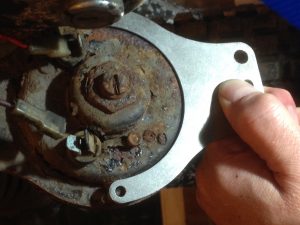 This is the horn from my 1968 BSA B25 Starfire with the original bracket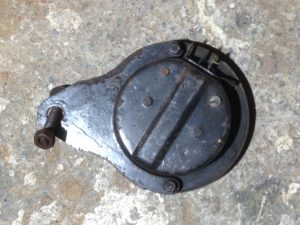 This picture shows the '72 B50 bracket positioned over the '68 B25 horn, the hole centres on the bracket are slightly closer together than the horn bolts and the radius of the horn is greater than the radius of the bracket.