Description
Royal Enfield Bullet Rear Wheel Chain Adjusting Snail Cams
Royal Enfield Bullet Rear Wheel Chain Adjusting Snail Cams. A set of drive chain adjusting cams and washers for the full width QR rear hub Indian Bullet.
Disappointed with the standard of the original fittings, appear to have been gnawed out by a Rajkot Guja Rat, I had these manufactured,
* They run concentric to each other,
* The concave section actually fits the location pin,
* They are etch calibrated 5,10,15, 20,
* Have a 1/4″ inch square to take a ratchet/extension bar for ease of adjustment. (Not included)
* They won't rust.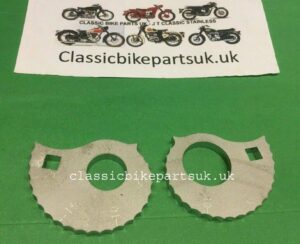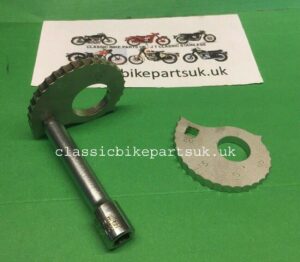 * Cam throw is reduced to suit the wear limits of chain and sprockets
Laser cut in 5mm A2 stainless R.H. hole dia. 11/16″ (17mm) L.H. hole dia. 7/8″ (22mm)
N.B. The Etched Calibration is for the L.H Chain Model.